10 Magical Mason Jar Christmas Gift Ideas
Christmas potpourri in a jar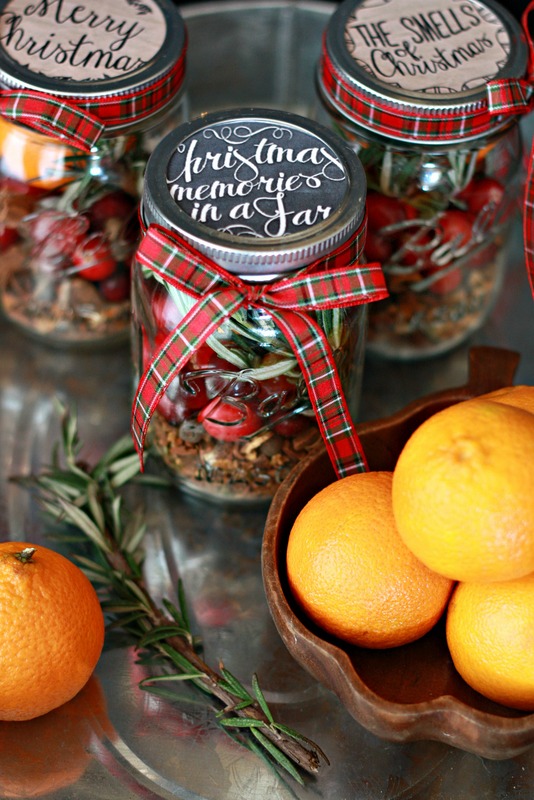 Source: Nest of Posies
If you know someone who can't get enough of those Christmas scents, why not make a Christmas potpourri jar, filled with rosemary, cranberry, and mulling spices to give them. It really doesn't take much work, is warming to the senses. See the full tutorial at Nest of Posies.
Snowball Cookies Mason Jar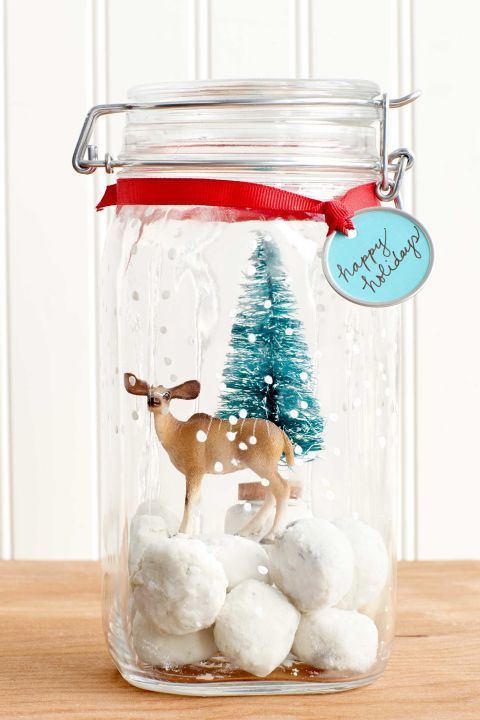 Source: CountryLiving.com
Why not give a fun editable Christmas scene in a jar, in place of a regular plate of cookies. Step 1: Paint little white snow dots with a fine-tipped paint brush on the outside of the mason jar. Step 2: Make delicious snowball cookies to fill the botto of the jar with. (Get the recipe by clicking here) You've just created a beatiful snow hill. Now place a little plastic deer and miniature christmas tree ontop of the snowball cookies. Step 3: Use a ribbon to tie a gift tag to the jar, and you're done.
Berries and Twine Candle Votive
Source: decoart.com
Everybody likes a good candle votive. Why not make a set of these festive berry and twine candle votives as a gift this year. See the full tutorial at DecoArt.
Silhouette Christmas Scene Laterns
Source: adventure-in-a-box.com
Don't these look great?! I promise you, these are not as hard to make as they look. Get the full tutorial at and silhouette design at Adventure in a Box.  
Delicious Gingerbread Terrariums Mason Jar
Source: mynameisyeh.com
Another fun and delicious mason jar, you can put any delight in them you want really. Let your creativity roam free. These terrariums feature gingerbread cake, chocolate "mud", marzipan for trees, pretzels, shredded coconut, and other fun goodies. See the instructions and recipe at MyNameIsYeh.com.
Hot Chocolate Reindeer Mason Jar
Source: BHG.com
Because hot chocolate never gets old at Christmas, and reindeer are an iconic part of the season, why not do a hot chocolate reindeer mason jar? This is always a cute one to make with your kids to give their school teacher, friend, or neighbor. Get directions here.
Licorice Santa Mason Jar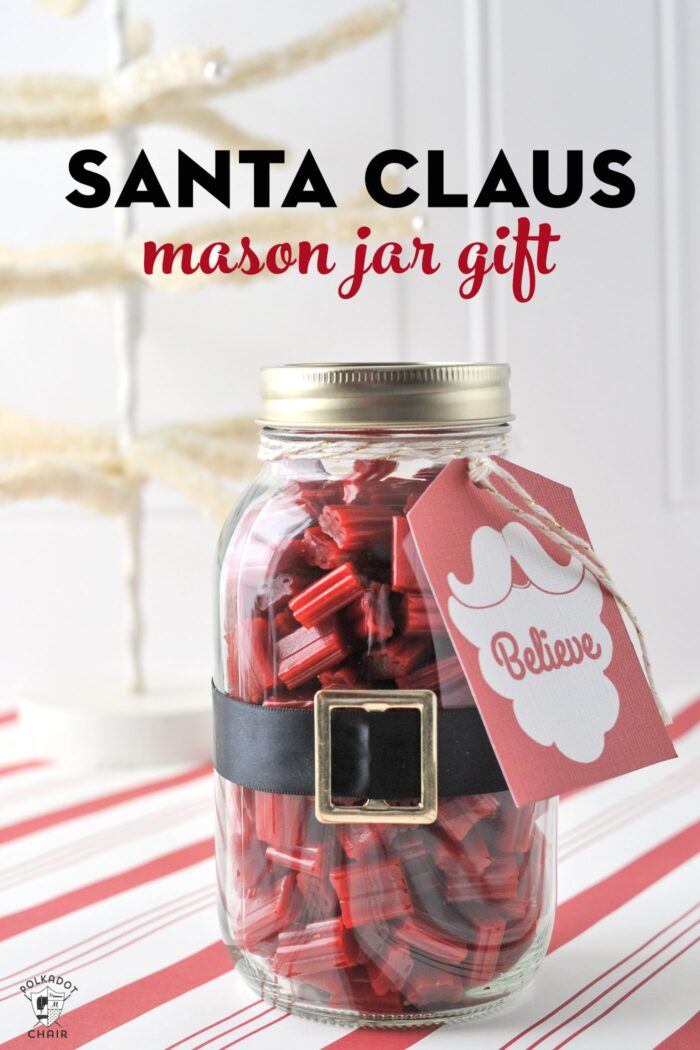 Source: polkadotchair.com
For you licorice lovers out there, here's a fun licorice santa mason jar. The licorice bites, of course double as santas red suit, black ribbon with a gold buckle from any craft store for Santa's belt, and a gift tag is all it takes. Get the full instructions at Polkadotchair.com.
Christmas Tree Mason Jar Votive
Source: masonjarcraftslove.com
This is another fun and easy one to do with the kids. This comes from a website that is nothing but mason jar crafts. In fact, it's MasonJarCraftsLove.com. You're bound to find many more ideas, as well. Get the instructions here.
Vintage Cars & Trucks Mason Jar Snow Globe
Source: masonjarcraftslove.com
I couldn't resist adding another one from this website. These vintage cars and trucks carrying a Christmas tree in the back or on the roof are just too cute of a throw-back to yesteryears to resist sharing. Get the instructions here.  
Snowy Pinecone Votives
Source: craftsbyamanda.com
Another adorable candle votive that reflect the calm after freshly fallen snow. Line your walkway with these for your next Christmas party, or use as a center piece at the dinner table. See the full tutorial at CraftsbyAmanda.com.