4 Perfect Christmas Brunch Recipes
There is nothing better than a plate full of warm and delicious comfort food to start your Christmas day off on the right foot! But who wants to take the time to cook on Christmas morning? These four recipes are super easy make-ahead dishes. All you have to do is assemble your dish the night before and then toss it in the oven in the morning before all the festivities start. Your brunch casserole is sure to be a hit this Christmas and may even become a family favorite!
BLACKBERRY CROISSANT BREAKFAST BAKE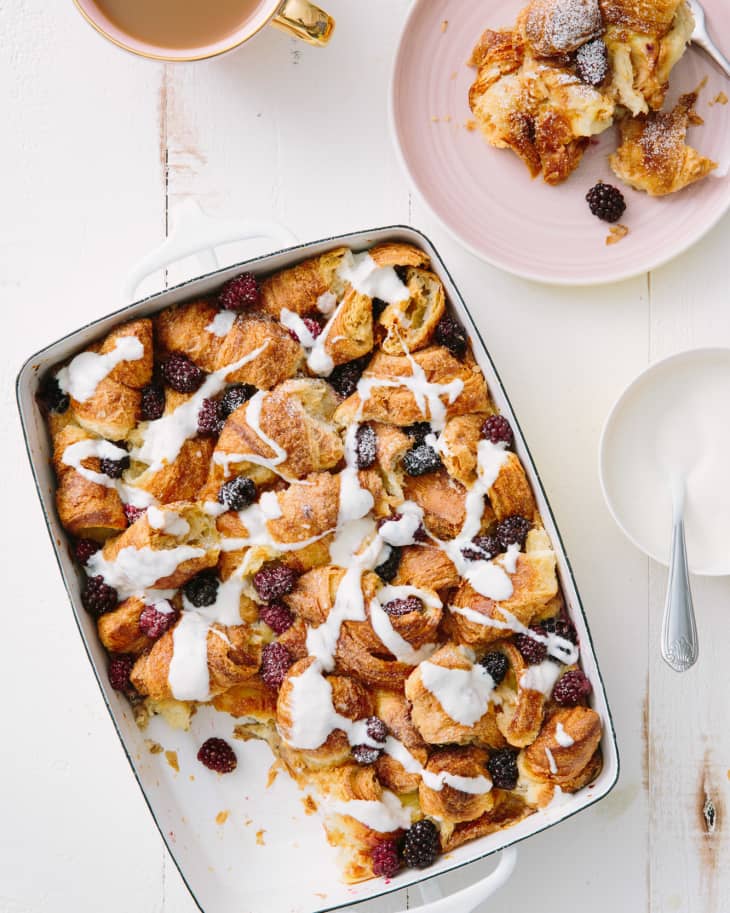 Source: Christine Han[/caption] Recipe By: Sheela Prakash Source:
The Kitchn
Total Prep Time: 1 hr 20 min Servings: 8 - 10
Ingredients
8 croissants, cut or torn into 2-inch pieces
Butter or cooking spray
1 pint blackberries (about 3 cups)
4 cups (1 quart) whole milk
6 large eggs
2/3 cup granulated sugar
2 teaspoons vanilla extract
1 teaspoon ground cinnamon
1/8 teaspoon salt
Powdered sugar or glaze, for serving (optional)
Directions
Arrange a rack in the middle of the oven and heat to 350°F. Spread the croissant pieces in a single layer on a baking sheet. Toast until dry, hard, and very lightly toasted about 10 minutes. Set aside to cool slightly.
Coat a 3-quart or 9x13-inch baking dish with butter or cooking spray. Place the croissant pieces in the baking dish in an even layer. Sprinkle evenly with the blackberries.
Whisk the milk, eggs, sugar, vanilla, cinnamon, and salt together in a large bowl. Pour evenly over the croissants and berries. Press down on any large croissant pieces that aren't submerged in the liquid. Set the baking dish aside for 15 minutes so that the croissants absorb some of the liquid.
Bake uncovered until puffed, golden-brown, and a toothpick inserted into the middle comes out clean, 45 to 55 minutes. If the top is getting dark before the inside is baked through, tent the dish loosely with aluminum foil.
Place the croissant bake on a wire cooling rack. Let stand at least 10 minutes before serving warm. Dust with powdered sugar or drizzle with glaze, if desired.
BREAKFAST CORNBREAD CASSEROLE WITH HAM AND KALE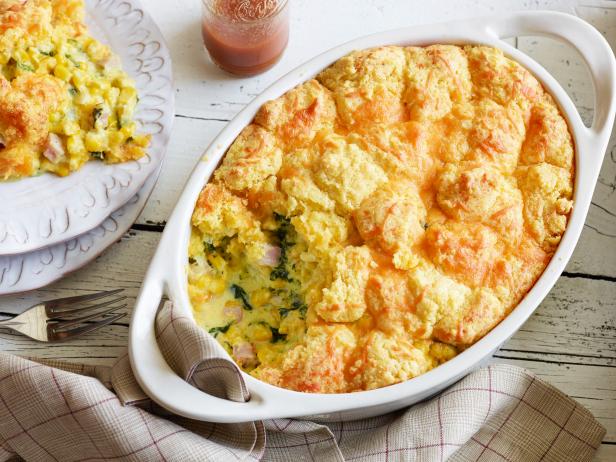 Source: Matt Armendariz, Television Food Network[/caption] Recipe By: Food Network Kitchen Source:
Food Network
Total Prep Time: 1 hr 25 min (Prep: 10 min; Inactive: 15 min; Cook: 1 hr) Servings: 8 to 10
Ingredients
Creamed corn:
3 tablespoons unsalted butter, plus more for greasing the baking dish
1 medium onion, finely chopped
1 teaspoon fresh thyme leaves
Kosher salt and freshly ground black pepper
Two 16-ounce bags frozen corn, thawed
1 1/2 cups heavy cream
1/2 pound thick-sliced deli ham, diced
5 ounces frozen kale (about 1 3/4 cups)
Cornbread topping:
3/4 cup yellow cornmeal
3/4 cup all-purpose flour
2 teaspoons baking powder
1 teaspoon sugar
Kosher salt and freshly ground black pepper
1 1/2 sticks (12 tablespoons) cold unsalted butter, cut into small pieces
3/4 cup heavy cream
1 cup shredded sharp yellow Cheddar
Hot sauce, for serving
Directions
Special equipment: a 2-quart oval baking dish
Preheat the oven to 350 degrees F. Butter a 2-quart oval baking dish.
For the creamed corn: Melt the butter in a large skillet over medium heat. Add the onions, thyme, 1/2 teaspoon salt and a few grinds of pepper, and cook, stirring frequently, until the onions are soft and translucent, about 10 minutes. Add the corn and cream, and bring to a simmer, stirring occasionally, until the mixture reduces in volume and bubbles rapidly, about 15 minutes. Transfer 2 cups of the corn mixture to a food processor, puree until smooth, then stir it back into the skillet. Fold in the ham and kale. Transfer the creamed corn to the prepared baking dish; set aside. Clean the food processor bowl.
For the cornbread topping: Pulse the cornmeal, flour, baking powder, sugar and 1/2 teaspoon each salt and pepper in a food processor to combine. Add the butter, and pulse until the mixture resembles coarse breadcrumbs. Add the cream and 1/2 cup of the Cheddar, and pulse until the batter just comes together.
To assemble: Sprinkle the cornmeal batter over the creamed corn. (Don't worry if the corn isn't completely covered; the batter will puff and spread as it bakes.) Sprinkle with the remaining 1/2 cup Cheddar. Place the casserole on a baking sheet, and bake until the corn is bubbling and the crust is puffed and golden brown, about 35 minutes. Let cool for 15 minutes. Serve with hot sauce.
CHRISTMAS BREAKFAST BACON CASSEROLE
[caption id="" align="alignnone" width="601"]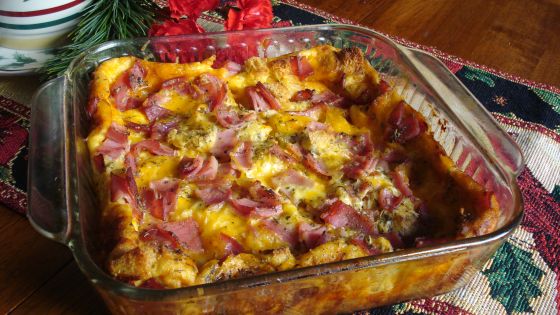 Source: Pam-I-Am on Geniuskitchen.com[/caption] Recipe By:
CookingONTheSide
Source:
Geniuskitchen.com
Total Prep Time: 1 hr Servings: 8
Ingredients
7 slices white bread (crusts removed and cubed)
2 cups cheddar cheese, shredded
6 eggs
3 cups whole milk, no substitutes
1 teaspoon ground mustard
1⁄2 teaspoon salt
1⁄4 teaspoon pepper
6 slices bacon, cooked and crumbled
Directions
In greased 11-inch by 7-inch by 2-inch baking dish, combine the bread cubes and cheese.
In large bowl, whisk the eggs, milk, mustard, salt and pepper; pour over bread and cheese.
Top with bacon.
Cover and refrigerate overnight.
Remove from the refrigerator 30 minutes before baking.
Bake, uncovered, at 350 degrees F for 50-55 minutes or until knife inserted near the center comes out clean.
OVERNIGHT COUNTRY SAUSAGE AND HASH BROWN CASSEROLE
[caption id="" align="alignnone" width="600"]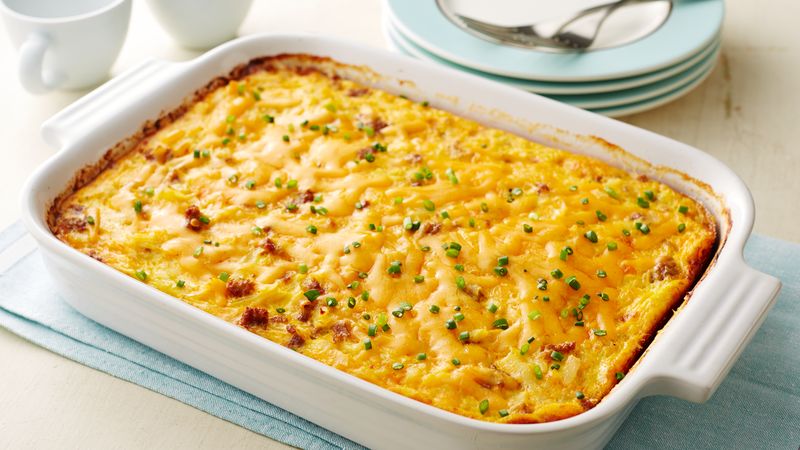 Source: Pillsbury[/caption] Recipe By:
Pillsbury
Source:
Pillsbury
Total Prep Time: 9 hr 25 min (Prep: 20 min) Servings: 8
Ingredients
1 package (16 oz) bulk hot pork sausage
10 eggs
1 ½ cups milk
2 tsp dijon mustard
¼ tsp ground pepper
1 bag (20 oz) refrigerated hash browns (about 4 ½ cups)
1 ½ cups shredded sharp Cheddar cheese (6 oz)
Directions
Spray 13x9-inch (3-quart) baking dish with cooking spray. In 8-inch skillet, cook sausage over medium heat 5 to 7 minutes or until no longer pink; drain.
In large bowl, beat eggs, milk, Dijon mustard and pepper with whisk until mixed well. Stir in hash browns, 1 cup of the cheese and the cooked sausage. Pour mixture in baking dish; cover and refrigerate at least 8 hours but no longer than 12 hours.
Heat oven to 350°F. Remove dish from refrigerator, uncover and top with remaining 1/2 cup cheese. Bake 45 to 55 minutes or until center is just set. Cool 10 minutes before serving.