5 Elegant Holiday Gift Basket Ideas
Family Christmas Breakfast Crate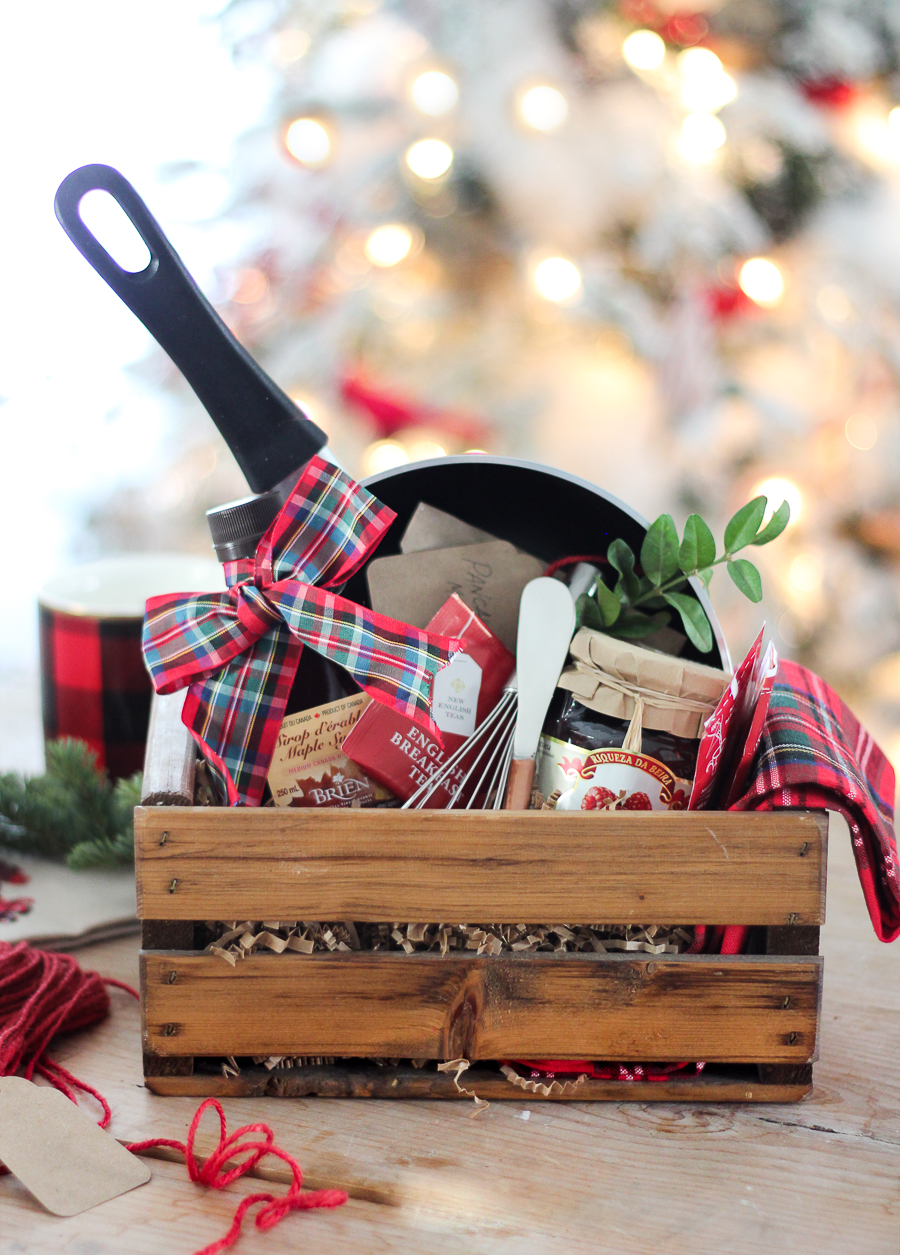 (via
Craftberry Bush
) Perfect for family gifts! Find a good crate if you can. Home Goods often has many good crates or baskets to choose from. Add some brown paper bag crinkle cut filler to the bottom of the crate. Pick up some gourmet maple syrup, teas, pancake mix, and jam to add to the crate. Then find a small whisk, cooking pan, jam knife, and kitchen towels. The towels should help tie in matching colors with the crate ribbon, ties, and name tags. If you can't find any of these things, feel free to substitute with similar items you would find at a breakfast. For example, try cinnamon sticks, festive plates or napkins, fruit, honey in mason jars, pancake mix ins like walnuts and dried blueberries.
Cheese Lover's Basket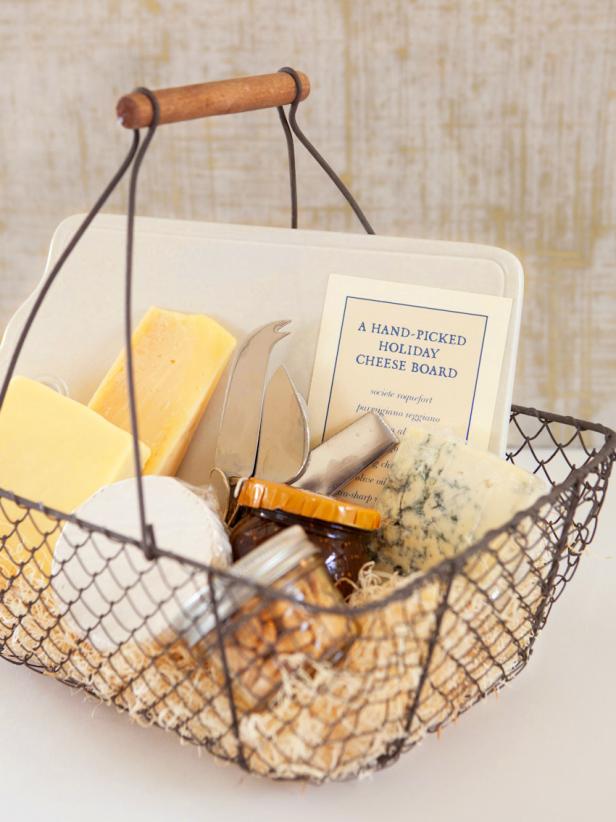 (via
DIY Network
) You don't have to be a cheese connoisseur to put together a delightful basket that any cheese lover will adore. Get a vintage farm basket and some natural excelsior decorative packing material at your local craft store or online. Add a slate cheese board and a few good spreading knives, which can sometimes be found at your local grocery store. Now for the fun part! Go to your local cheese shop or the artisanal cheese section at your grocery store. Pick out a mix of 3-5 fresh, aged, hard, and soft cheeses. Make it a little more adventurous with a variety of cheeses made from goat, sheep, and cow's milk. Add a mason jar of Marcona almonds or cashews. Pick out a good chutney or fresh local honey and get some artisan crackers to compliment the spreads. Finally, add a little gift card note listing all the tasty items to try in the basket. Add some twine for the final touches and you have yourself a beautiful cheese gift basket.
Christmas Morning Coffee Crate
(via
TomKat Studio
) Know anyone hosting friends or family over the holidays? Give them a Christmas morning coffee gift crate for a cute way to help them get ready for the Christmas morning rush. Once again, pick up a small crate and some crinkle cut filler paper. Fill some mugs like these initial mugs with whole coffee beans (make sure to bag the beans). Add enough sugar, creamer, stir sticks, and to-go coffee cups for 4-8 people. Thrown in some homemade treats like chocolate chip or snickerdoodle flavored biscotti. For the finishing touches, add a similar themed holiday ornament, wrap some matching ribbon around the crate, and buy or create your own cute labels to bring it all together.
Kitchen Crew Basket
(via
Curbly
) This is the perfect Christmas present for someone who loves to cook. It has a little of everything to make any kitchen bright and warm during the cold winter months. For this gift, you will need a cute wicker basket with a tall handle and some light lacy fabric or something reminiscent of kitchen window curtains. You will need to fit the largest items in first, such as a cookbook or magazine. Place it in the back. Next, put a bundle of cute towels (see anthropology's selection for inspiration on colors and patters) and a bottle of your friend's favorite wine in the center of the basket. In the front of the basket, you will want to place a bundle of recipe cards along with a cute potted succulent. If you can't find recipe cards since they are becoming more rare these days, try adding a candle, bottle of pink himalayan salt, measuring cups, or a bottle opener. Add some twine or a light ribbon on the side of the basket for a little decoration.
Spa Day Basket
(via
The Beauty DoJo
) This is a great universal gift basket that everyone (well...every woman) is sure to love. From your neighbour to your mother-in-law to your kid's teacher, this fun and elegant spa basket will make their holiday's less stressful. To make this gift basket, you will first need to find a hexagon wood box. You can actually use a shadow box that is used for decorating walls. Geometric shapes are really in this year and makes for a unique look. Fill the bottom of the box with crinkle cut paper filler or flat spa rocks. Add a couple of grey or natural toned towels rolled up and tied with twine. Find a good luffa scrubber to add in the basket. Then throw in some bath salts in a glass or plastic container and a few bath bombs. You can add a foot scrubber, bottle of soap, or a face mask to complete the basket. As a nice final touch, add in some spa cards with words like "breath" or "relax" to help set the tone.