5 Fun and Festive Christmas Party Ideas
1. Holiday Photo Booth Party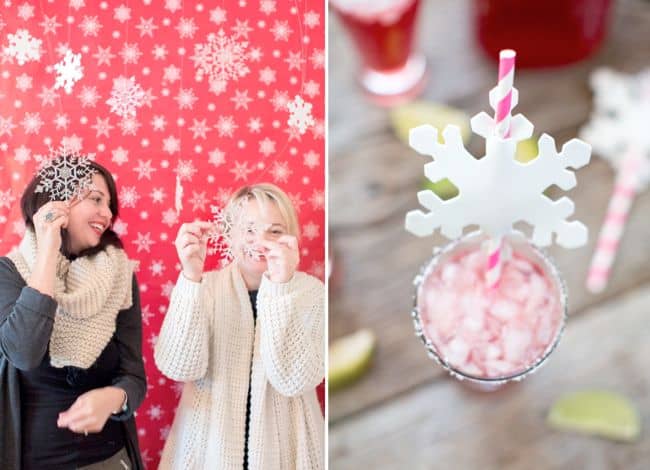 Source: helloglow.co
Have a fun holiday party, complete with music holiday drinks, hors d'oeuvres and holiday music. And tell them to dress us too and be camera ready for the fun holiday photo complete with backdrop and entertaining masks and props.
Source: brit.co[/caption] You can make your own, or purchase some printable ones from Etsy. Tutorial for the backdrop featured above available at Hello Glow. Printable masks and props available at BRIT + CO and Etsy.
2. Christmas Karaoke Party
[
Source: ProSound Karaoke BandZ
Enlist your family and/or friends to help come up with a list of fun and favorite Christmas songs. And I'm not referring to Carols or Hymns, save those gems for caroling. I mean songs like All I Want for Christmas Is You by Mariah Carey, Rockin' Around the Christmas Tree by Lee "Scratch" Perry, White Christmas by Bing Crosby, or even a fun duet like, Baby It's Cold Outside by Dean Martin. You get the picture. You can have your guests sign an old Christmas record as your guest book, and make fun trophies out of little wooden instruments.
3. Christmas Movie Trivia Game Party
Here are
40 Christmas movie trivia questions
to get the party going. Winner takes home a basket of several of popular Christmas movie DVDs.
4. Reverse Christmas Party in July
Source: thebearfootbaker.com
Are you a bit tired of the same old Christmas party this year? Why not throw a reverse Christmas in July party? Tell your guests to wear their best Hawaiian shirt or beach attire, including their flip flops. Drinks for the party would of course be pina coladas and these cute reverse Christmas in July cookies.
5. Christmas Cookie Exchange Party
]
Source: CountryLiving.com
Who doesn't love a good Christmas cookie? For this party, your guests must bring a dozen of their favorite, creative, or unique Christmas cookies, (which are also required to be delicious!) Have them also bring recipe cards for their cookies, (that's right no store bought,) to share with everyone. Then send everyone around a table of the cookies with cute little Christmas bags to get one from each plate. Of course guests are encouraged to try any cookies they want, and take the rest home.