6 Irresistible Pumpkin Recipies For The Holidays
Now that fall is almost here, we see all kinds of pumpkin products on the grocery aisle shelves, from pumpkin spice flavored Life Cereal to pumpkin pie Oreos. However, if it is a classy pumpkin dish you are looking for, you will definitely want to check out these scrumptions recipes. Test them out, then put your favorites on the menu for your next Thanksgiving or Christmas dinner!
Pumpkin Bread Pudding With Spicy Caramel Apple Sauce and Vanilla Bean Creme Anglaise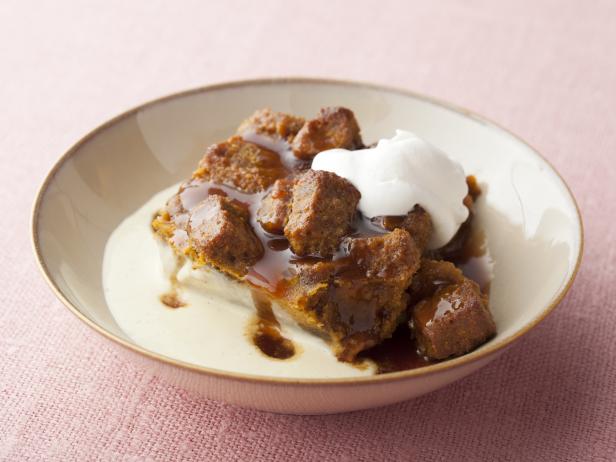 Source: FoodNetwork.com
Currently this recipe has 5 stars out of 5 stars with 97 reviews. Must be a holiday show stopper!
Prep Time: 30 min
Inactive Time: 2 hr 15 min
Cook Time: 2 hr 55 min
Servings: 8
Ingredients:
2 cups heavy cream
1 cup whole milk
1 vanilla bean, seeds scraped
6 large egg yolks
½ granulated sugar
3 tablespoons pure maple syrup
1 cup pure canned pumpkin puree
2 tablespoons bourbon
Pumpkin Bread, toasted and cubed, recipe follows
Vanilla Bean Creme Anglaise, recipe follows
Spicy Caramel Apple Sauce, recipe follows
Freshly whipped cream
Pumpkin Bread
4 tablespoons unsalted butter, softened, plus more for greasing
1 ¾ cups all-purpose flour
½ teaspoon fine salt
1 teaspoon baking soda
½ teaspoon baking powder
½ teaspoon ground allspice
1 teaspoon ground cinnamon
½ teaspoon ground nutmeg
1.2 teaspoon ground cloves
1 ½ cups sugar
¼ cup vegetable oil
8 ounces (scant 1 cup) canned unsweetened pumpkin puree
2 large eggs
⅔ cup water
Vanilla Bean Creme Anglaise
2 cups half-and-half
½ vanilla bean, seeds scraped
5 large egg yolks
⅓ cup pure cane sugar
Spicy Caramel Apple Sauce
1 cup heavy cream
½ cup apple juice
1 star anise
1-inch piece fresh ginger, peeled and chopped
4 whole cloves
2 cinnamon sticks
⅛ teaspoon ground nutmeg
1 ½ cups granulated sugar
½ cup water
1 tablespoon apple cider vinegar
1 tablespoon apple schnapps
Instructions:
Preheat the oven to 325 degrees F. Combine the cream, milk, vanilla bean and seeds in a small saucepan over medium heat and bring to a simmer.
Whisk together the yolks, sugar, maple syrup, and pumpkin puree in a large bowl. Slowly whisk in the hot cream mixture until combined, remove the vanilla pod, and whisk in the bourbon. Strain the custard into a clean bowl.
Scatter the pumpkin bread cubes in a buttered 9 by 13-inch baking glass baking dish. Pour the custard over the bread, pressing down on the bread to totally submerge it in the custard. Let sit for 15 minutes to allow the bread to soak up some of the custard.
Place the pan in a larger roasting pan and pour hot tap water into the roasting pan until it comes half way up the sides of the glass dish. Bake until the sides are slightly puffed and the center jiggles slightly, about 1 hour.
Remove from the oven and water bath and cool on a baking rack for at least 30 minutes before serving.
Spoon some of the Vanilla Bean Creme Anglaise into a shallow bowl, top with some of the bread pudding and drizzle with the Spicy Caramel Apple Sauce. Top with freshly whipped cream. Bread pudding is best served warm.
Pumpkin Bread
Preheat the oven to 350 degrees F. Butter or lightly spray the bottom and sides of a 9-inch loaf pan with nonstick cooking spray.
Whisk together the flour, salt, baking soda, baking powder, allspice, cinnamon, nutmeg, and cloves in a small bowl.
In the bowl of a standing mixer fitted with the paddle attachment, beat the 4 tablespoons softened butter, sugar, and oil at high speed until light and fluffy, about 1 minute, scraping down the sides and bottom of the bowl a few times.
Add the pumpkin puree and mix until combined. Add the eggs, one at a time, and mix until just incorporated. At low speed, slowly add the flour mixture and water and mix until just combined. Spread the batter into the prepared pan and bake until a toothpick inserted into the center comes out clean, about 60 to 75 minutes. Let cool in the pan on a baking rack for 10 minutes. Remove from the pan and let cool completely.
Once the bread is cool, slice in half lengthwise, and then slice each half into 1/2-inch cubes. Spread the cubes on a large baking sheet and bake in a 325 degree oven until lightly toasted, turning once, about 20 minutes. Let cool.
Vanilla Bean Creme Anglaise
Bring the half-and-half and vanilla bean and seeds to a simmer in a medium saucepan.
Whisk together the yolks and sugar in a medium bowl until at the pale ribbon stage. Slowly whisk in the hot half-and-half, return the mixture to the pot, and cook over medium heat, stirring constantly with a wooden spoon, until the mixture coats the back of the spoon. Strain into a bowl and set over an ice bath. Stir until chilled. Cover and refrigerate at least 1 hour before serving.
Spicy Caramel Apple Sauce
Combine the cream, apple juice, star anise, ginger, cloves, cinnamon sticks, and nutmeg in a small saucepan and bring to a simmer. Remove from the heat and let steep for at least 20 minutes. Strain the mixture into a clean, small saucepan and place back over low heat while you make the caramel.
Combine the sugar, water and, vinegar in a medium saucepan over high heat and cook without stirring, until it's a deep amber color, about 8 minutes. Slowly whisk in the warm cream mixture a little at a time, and continue whisking until smooth. Add the apple schnapps and cook for 30 seconds longer. Transfer to a bowl and keep warm. The sauce can be made 2 days in advance and refrigerated. Reheat over low heat before serving.
Pumpkin Hot Chocolate
Source: Sugarhero.com
A decadent sipping hot chocolate, rich and thick, but oh-so-delicious. This is one seasonal treat you don't want to miss out on. It may even become a new family favorite for the holidays.
Prep Time: 10 minutes
Cook Time: 30 minutes
Servings: 3
Ingredients:
1-1/2 cups milk preferably whole milk
1/2 cup canned pumpkin puree not pumpkin pie filling
1 cinnamon stick
6 whole cloves slightly crushed
1 tbsp chopped candied ginger
Zest from 1/2 orange
1 vanilla bean split lengthwise
2 ounces semi-sweet or bittersweet chocolate about 1/3 cup chopped
pinch sea salt
2 tbsp brown sugar more or less to taste
Garnishes like whipped cream marshmallows, cinnamon, or chocolate
Instructions:
Place the milk in a small saucepan over medium-low heat, and add the pumpkin, cinnamon stick, cloves, chopped candied ginger, orange zest, and vanilla bean. Slowly heat the milk and bring it to a simmer, so that bubbles are forming around the edges but it never comes to a boil.
Remove the pan from the heat and cover it with a lid to allow the flavors to infuse for at least 30 minutes. If you have more time, you can let it infuse longer, even overnight. Just make sure to refrigerate the milk if it sits out longer than an hour or so.
When you're ready to finish the hot chocolate, strain the milk mixture into a clean saucepan, discarding the solids. Bring the milk back up to a simmer, then remove the pan from the heat.
Add the chopped semi-sweet chocolate and the pinch of salt.
Whisk gently until the chocolate dissolves and the mixture is completely smooth. Taste the hot chocolate, and add brown sugar as needed. Depending on the sweetness of your chocolate and your personal taste, you might want more or less sugar than the recipe calls for.
Pour into small mugs to serve, and garnish with whipped cream, marshmallows, chocolate shavings, or a dash of cinnamon.
Baked Cider Pumpkin Doughnuts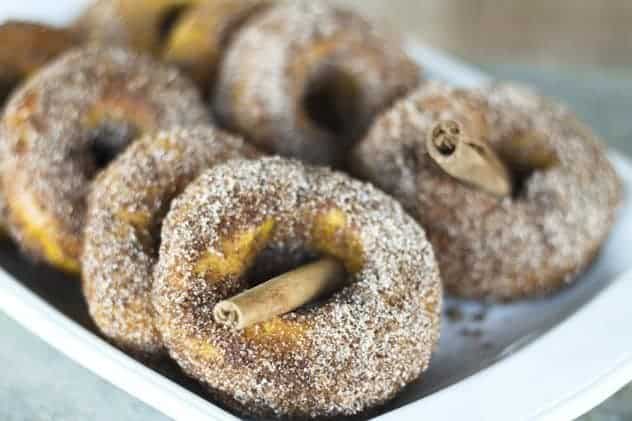 Source: FoodiewithFamily.com
These doughnuts are a perfect taste of fall and winter wrapped up in one bite. Good for Christmas breakfast or when you are out Christmas carolling. They have a beautifully spiced pumpkin orange crumb, with hints of cider and cinnamon sugar.
Servings: 12 large doughnuts and 30-40 doughnut holes (depending on size)
Ingredients:
Brown Butter
1/2 cup (1 stick/ 4 ounces by weight) unsalted butter
Doughnuts
1/4 cup whole milk
1/4 cup plus 1 tablespoon boiled cider
1 envelope (2 1/4 teaspoons) instant dry yeast
1/4 cup granulated sugar
1/2 cup light brown sugar, packed
1 1/2 teaspoons kosher salt
1 teaspoon pure vanilla extract
1/2 teaspoon ground cinnamon
1/8 teaspoon ground nutmeg
1 large egg
2 large egg yolks
1 cup pumpkin puree
2 1/4 cups all-purpose flour
1 cup bread flour
Cinnamon Sugar
1/2 cup granulated sugar
1 tablespoon ground cinnamon
Instructions:
Dough Prep
Warm milk to just above room temperature using the microwave or a saucepan. Pour into the work bowl of a stand mixer, gently stir in the boiled cider and the yeast. Let stand for 5 minutes.
After 5 minutes, use the batter attachment on your stand mixer to blend in the sugar, brown sugar, salt, vanilla extract, cinnamon, nutmeg, egg, egg yolks, and pumpkin puree. Mix on medium for at least 1 minute to be certain everything is evenly combined and smooth.
Turn off the mixer, switch to the dough hook, and add all of the flour at once. Start on low (to avoid the dreaded flour POOF) and gradually move up to medium high where it should stay for 4-6 minutes, or until you have a soft, sticky batter-like dough.
Butter a large mixing bowl or pan generously and scrape the dough into it. Cover with plastic wrap and let rise at room temperature until doubled in size (about 1 hour at average room temperature.)
After an hour, line 2-3 baking sheets with parchment or silpats and set them aside.
Generously flour your work surface and your rolling pin. Turn the dough out onto the counter and dust the top with flour. Knead for no more than 1 minute to deflate the dough.
Roll it out to about 1/2-an-inch thickness and use a 3-inch diameter round cutter to cut large doughnuts and a 1/2-1-inch thickness round cutter to cut the hole from the center. (Or use the small cutter to do a gigantic batch of doughnut holes!) Carefully transfer the cut doughnuts to the lined sheets with about 2-inches of space between each doughnut (or 1 inch between doughnut holes.)
Re-roll the scraps and cut more doughnuts. Repeat until you've used all the dough.
Cover the baking sheets with plastic wrap and let rise for about an hour. Take care not to let them rise too long or the yeast will exhaust its activity before it gets to the oven and you'll lose the light texture you're trying to get.
Preheat the oven to 400°F.
To Make the Brown Butter
While the oven preheats, melt the butter in a heavy-bottomed saucepan over high heat, swirling it to keep it from scorching. The butter will bubble and pop. As soon as the butter smells nutty and you can see lightly browned milk solids in the pan, remove the pan from a burner and set in a place to cool just slightly.
To Bake Doughnuts
Bake the doughnuts in the preheated oven for about 20 minutes or until golden brown.
Bake the doughnut holes in the preheated oven for about 10 minutes, or until just golden.
To Assemble the Doughnuts
Toss the granulated sugar and ground cinnamon together in a bowl. Set the cinnamon sugar next to the brown butter. Working with one doughnut at a time, dunk into the brown butter and flip to coat. Lift with a fork to allow the excess butter to drain away then drop into the cinnamon sugar. Toss to cover all surfaces with the cinnamon sugar, transfer to a plate, and repeat with the remaining doughnuts and doughnut holes.
(Source: Foodie With Family)
Pumpkin Ravioli With Sage Browned Butter Parmesan and Pecans
Classy and unique! This sets the stage for a perfect holiday dinner. All you need is a great glass of your favorite Italian wine to compliment these sweet and savory holiday flavors.
Prep Time: 30 min
Cook Time: 5 min
Servings: 2-3
Ingredients:
Salt
2 tablespoons olive oil
Scant 1 cup canned pumpkin puree (not pie filling)
1/3 cup grated Parmesan cheese plus more for topping
Pinch of cayenne pepper (optional)
Black pepper, to taste
24 wonton skins
1 large egg, beaten
1 stick unsalted butter
6 large sage leaves, thinly sliced plus a leaf thinly sliced
1/4 cup toasted pecans
Instructions:
Bring a saucepan of salted water to a boil. Add olive oil.
In a small bowl, combine canned pumpkin puree, 1/3 cup grated Parmesan cheese, cayenne if using and salt and black pepper to taste.
Place 12 wonton skins on a flat non-stick surface. Divide the filling equally, placing approximately 1 tablespoon in the center of each wonton skin.
Brush around the outside of the filling with beaten egg. Carefully place another wonton skin over the filling. Gently stretch it to make the edges come together neatly, removing any air pockets from the ravioli. Repeat until 12 ravioli are assembled.
Place the butter in a saucepan over medium heat. When the butter has melted and begins to simmer, reduce heat to low and let it continue simmering until it turns a light golden brown. Add the sage leaves and cook 1-2 minutes, being careful the butter does not get overly browned. Remove from heat and set aside. Remove sage with a slotted spoon and drain on a paper towel.
Working in batches, place 4 ravioli at a time in the boiling water. Cook 2 minutes or until they begin to float slightly (they don't need to come all the way to the top). Remove with a slotted spoon and drain in a colander. Repeat with remaining ravioli.
To serve, place ravioli on a plate. Drizzle with browned butter, leaving any browned milk solid bits behind in the saucepan. Top with sage leaves (both cooked and slivers), Parmesan cheese and pecans.
Spicy Pumpkin and Collards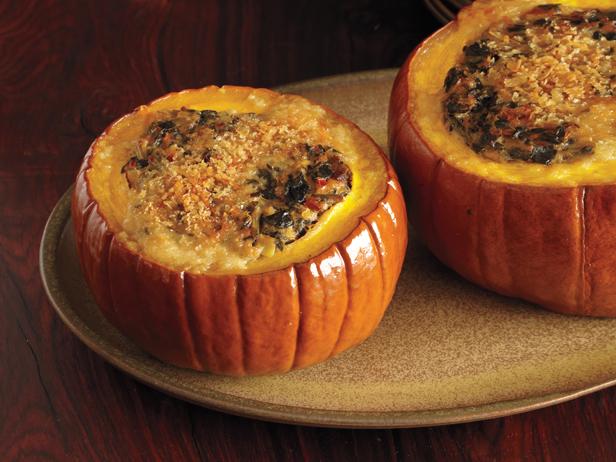 Source: FoodNetwork.com
This is a great dish if you want to stick to the holiday themes, but add in some new flavors. This would be a great dish for your more adventurous guests that like a little spice.
Prep Time: 20 min
Cook Time: 2 hr
Servings: 4
Ingredients:
2 sugar pumpkins (2-3 pounds each)
4 tablespoons unslated butter
1 small onion, diced
1 plum tomato, diced
1 Scotch bonnet chile pepper, seeded and finely chopped
1 teaspoon chopped fresh thyme
1 clove garlic, chopped
4 scallions, chopped
1 pound frozen chopped collard greens, thawed
Kosher salt
1 cup evaporated milk
Pink of freshly grated nutmeg
4 tablespoons breadcrumbs (panko works best)
1 ½ cups shredded sharp white cheddar cheese
2 tablespoons grated parmesan cheese
Instructions:
Preheat the oven to 375 degrees F. Slice off the top 1 1/2 inches of the pumpkins and discard. Scoop out the seeds and stringy pulp.
Melt 2 tablespoons butter in a large skillet over medium heat. Add the onion, tomato, chile pepper, thyme and garlic and cook, stirring, until the onion is slightly tender, about 5 minutes. Stir in the scallions and collard greens, add 1 1/4 teaspoons salt and cook, stirring, until the greens are slightly tender, about 15 minutes. Stir in the evaporated milk and nutmeg and bring to a gentle boil. Stir in 2 tablespoons breadcrumbs, the cheddar cheese and the remaining 2 tablespoons butter and cook, stirring, until the cheese melts and the mixture thickens slightly, about 2 minutes. Put the pumpkins in a 9-by-13-inch baking dish and fill evenly with the collard greens mixture.
Toss the remaining 2 tablespoons breadcrumbs with the parmesan. Sprinkle over the filling. Add 1 inch of boiling water to the baking dish. Cover loosely with foil and bake until the pumpkins are tender, about 1 hour, 15 minutes. Remove the foil and continue baking until browned and bubbly on top, about 30 more minutes. Let cool 5 minutes, then scrape the pumpkin flesh and serve with the collards.
Pumpkin Soup
Source: ThePioneerWoman.com
One of the smoothest and creamiest soups you will ever taste! Perfect appetizer that is sure to please the eye and the stomach.
Prep Time: 5 Minutes
Cook Time: 1 Hours
Servings: 8 Servings
Ingredients:
2 whole Pie Pumpkins
1 quart Vegetable Or Chicken Stock
1/2 cup Heavy Cream
1/3 cup Maple Syrup
Dash Of Nutmeg
Salt To Taste
Extra Cream, For Serving
Instructions:
Preheat oven to 300 degrees. Place pumpkins on a cookie sheet and roast them until slightly shriveled and soft. Allow to cool slightly, then slice in half and carefully scoop out seeds and pulp. Scoop yummy flesh into a bowl. Set aside.
In a pot, heat up the pumpkin flesh with the stock and maple syrup until simmering. Mash out the big chunks, the transfer the mixture to a blender or food processor (or use an immersion blender) and puree until velvety smooth. Add cream and nutmeg, then blend again.
Reheat if you need to, or just go ahead and serve in a hollowed-out pumpkin of whatever size you'd like.