Best Montessori Christmas Toys for Babies & Toddlers
The Montessori world can be confusing and hard to navigate for those who are not very familiar with the educational philosophy. If you are wondering how you can support family or friends who are raising their kids under this philosophy, one great way is to make sure your gifts fit the current development phase of each child. Appropriate developmental toys that promote independence are central to the Montessori philosophy.
However, this becomes a challenge as deciphering the current developmental stage of a child is nearly impossible if you are not the child's parent or teacher. So what toy should you get? There are certain developmental phases that each child goes through within a specific timeframe. This makes it easy to discern what developmental toys a child needs by a specific age.
We've compiled a list of recommended Montessori toys based on the age of the child to help take the guesswork out of finding the right toy. Follow this guide and you will be sure to impress the Montessorians in your life and you can feel good about helping the child reach their developmental potential.
Ages 0 - 4 Months
Octahedron Mobile
With basic primary colors and only three objects to focus on, the Octahedron Mobile is an educational tool to help babies develop eye tracking, focus, and basic colors.
You can purchase it via
Montessori Company
Wooden Play Gym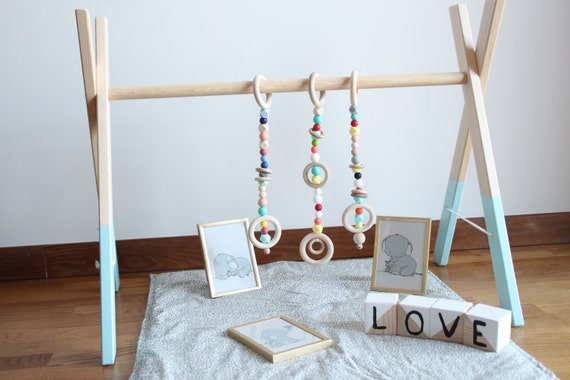 Stylish baby play gym made of completely natural materials, you can help the little one learn to reach for their toys and develop their back and neck muscles.
You can purchase it via Zanes Crochet Treasures on
Etsy
Wood Rattle
A wood rattle helps babies feel natural materials, help them learn cause and effect, along with soothing sore gums from teething. Babies can get so much from a simple rattle.
You can purchase it via
Finn & Emma
Ages 5 - 8 Months
Nicki Baby Waldorf Doll
This small doll is a perfect first doll option for baby. It is soft and has an extra long cap for teething babies. The doll is lightweight and filled with soft beads, which helps to soothe baby and develop their sense of touch. Since this doll is made of all environmentally safe materials, it is a no-brainer gift option.
You can purchase it via
Bella Luna Toys
Skwish Toy
This fun wood and elastic toy is perfect for teaching an infant about the principle of cause and effect. Little ones will have fun smooshing the ball down and watching it pop back up for hours.
You can purchase it via
Manhattan Toy Company
Object Permanence Toy with Tray
Babies learn hand-eye coordination by hitting the ball into the box and then learn object permanence as they see it disappear and then reappear. Babies love this toy and so do parents because of the educational benefits.
You can purchase it via
Pink Montessori
Ages 9 - 12 Months
Wood Blocks
The beautiful artwork on these classic blocks makes the pottery barn version a great gift choice. Children learn first to knock down blocks and then learn to stack them, helping them understand the concepts of gravity and balance.
You can purchase them via
Pottery Barn Kids
Push-Along Dragon
A fun classic toy, the push-along wooden dragon has wings that flap as the child pushes the wheel. This hand-crafted toy teaches coordination as the child has to walk and push the toy at the same time.
You can purchase it via
Bella Luna Toys
Pull-Back Vehicles
These soft zippy cars are just what babies need to develop great motor skills. They develop hand-eye coordination as they grasp the cars, pull back, and let them go. The soft fabric body of the car is washable and separates from the wheels of the car for easy cleaning.
You can purchase them via
Melissa and Doug
Ages 1 - 2 years
All-In-One Music Toy
Kids love music and love to try and make their own music. There's no better present than giving the gift of learning new skills. Especially, when learning rhythm builds a foundation for walking, riding a bike, and even basic math skills.
You can purchase it via
Pottery Barn Kids
Puzzle
Children of all ages love puzzles, but this puzzle teaches shapes and colors in the classic Montessori style. The large knobs and thick pieces are perfect for tiny hands that like to bang and throw things.
You can purchase it via
Melissa & Doug
Stacking Rings
Children develop fine motor skills and logical thinking as they learn the concept of gradual size changes and color changes. There are many versions of this classic toy, but we love the bright colors and fun knob on this model. Not to mention, the great low price!
You can purchase it via
Ikea
Impress your friends and family by picking out the perfect Montessori toy for their birthday or Christmas. You can't go wrong with these suggestions. Good luck!