The Top 6 Best Things to do in New York for Christmas
There is always something special about Christmas in New York. Of course there are many movies that share aspects of a NYC Christmas experience, but there's nothing quite like actually being there to enjoy it for yourself. While there, you must see the iconic Rockefeller Center Christmas tree, maybe take a carriage ride in Central park. But there are some lesser known things to do in NYC for Christmas that are not as touristy, but just as amazing. Here's our list of the top 6 best things you won't want to miss.
'Holiday Under The Stars' at Columbus Circle, Time Warner Center
[caption id="" align="alignnone" width="501"]
Source: ytimg.com[/caption] Nothing says Christmas like a dozen giant 14-foot LED stars hanging from the ceiling of the Time Warner shopping center, dancing through 16.7 million colors to classic holiday music. It's quite mesmerizing experience. Columbus circle is at the South West corner of central park. Bonus, there's a great Christmas market on the other side of the circle at the entrance to Central park. Enjoy Holiday Under The Stars, and then get a cup of hot coffee or cocoa from the second level café, and head across to the Christmas market.
St. Patrick's Cathedral
[caption id="" align="alignnone" width="1800"]
Source: ytimg.com[/caption] Built in the 1850's, in what was then the outskirts of NYC, even considered to be the wilderness, St. Patrick's today is in the center of Manhattan. It is conveniently located across the street from the Rockefeller center, at the corner of 5
th
Ave and 50
th
St., so you have no excuse not to experience this beautiful Cathedral that rivals many in Europe. The Cathedral had nearly $200 million in renovations done, inside and out, between 2012 – 2015. It really is a spectacular architectural feat and very moving to experience for Christmas. https://youtu.be/n9EtOxIcl2Y  
Wollman Ice Skating Rink
[caption id="" align="alignnone" width="2900"]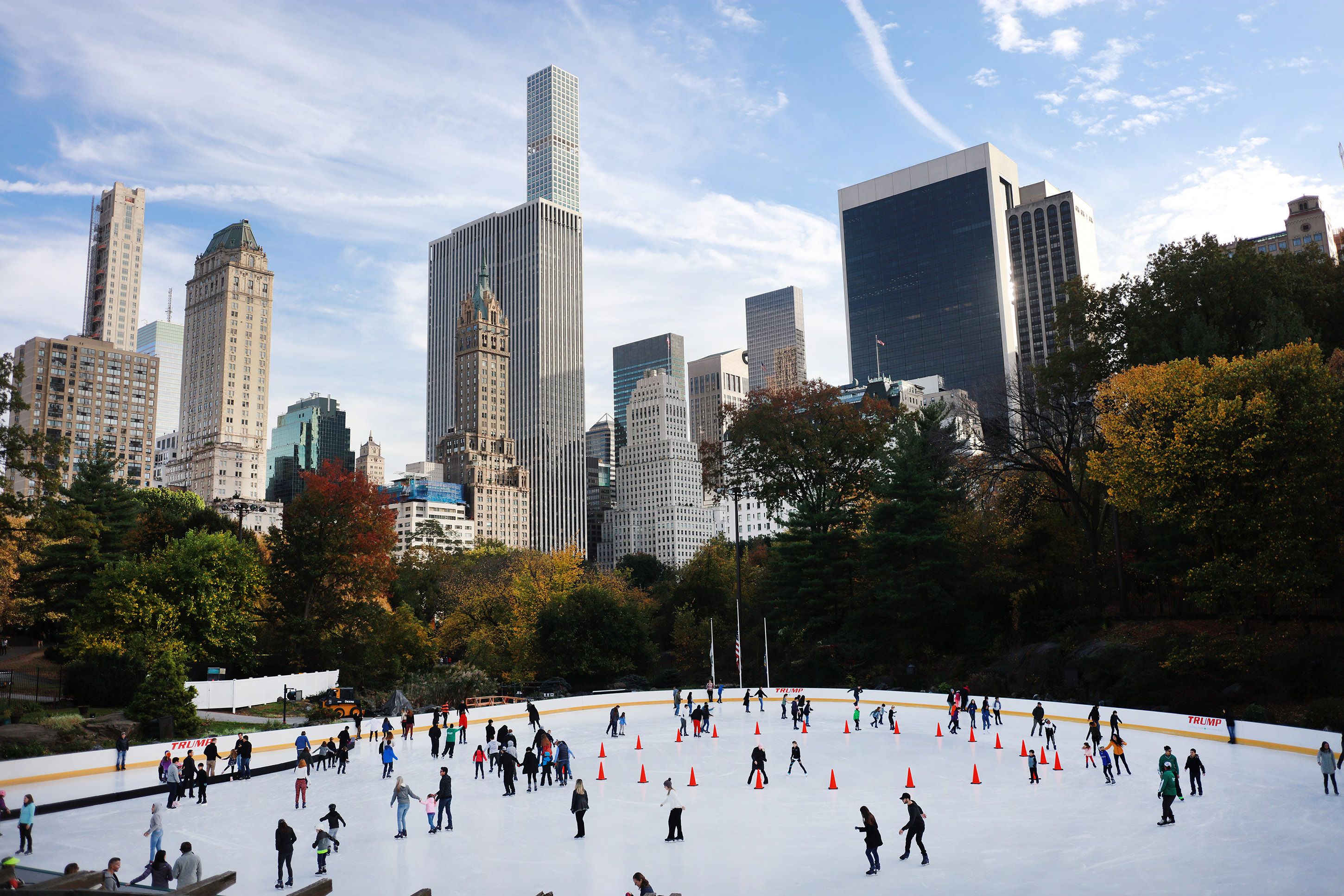 Source: hearstapps.com[/caption] Even with how busy New York is and how long the lines tend to be at many tourist attractions, you will be pleasantly surprised that the famous Wollman Ice Rink in Central Park is surprisingly accessible with shorter lines. It's an experience to remember with a beautiful view of both Central Park and the New York high rises on three sides of the park. You'll rub shoulders with natives and tourists alike. The rink provides skate rentals, and has small lockers. All you need to do is dress warm and get ready for to have fun! Oh, and the rink is cash only, so be sure to bring enough cash to get in, rent skates, and a locker. Current pricing can be seen on their website, www.wollmanskatingrink.com. The rink has been in a number of movies, including Home Alone 2. After ice skating, why not continue exploring Central Park and visit can stroll through the park afterwards and stop by
Tavern on the Green
restaurant for brunch or dinner. However, you'll want to get reservations in advance, as it is a popular spot and sometimes is booked a week or two out in advance. Another great option is the nearby Central Park Zoo that has a surprising collection of wildlife, including the always adorable penguins.  
Winter Christmas Village at Bryant Park
[caption id="" align="alignnone" width="750"]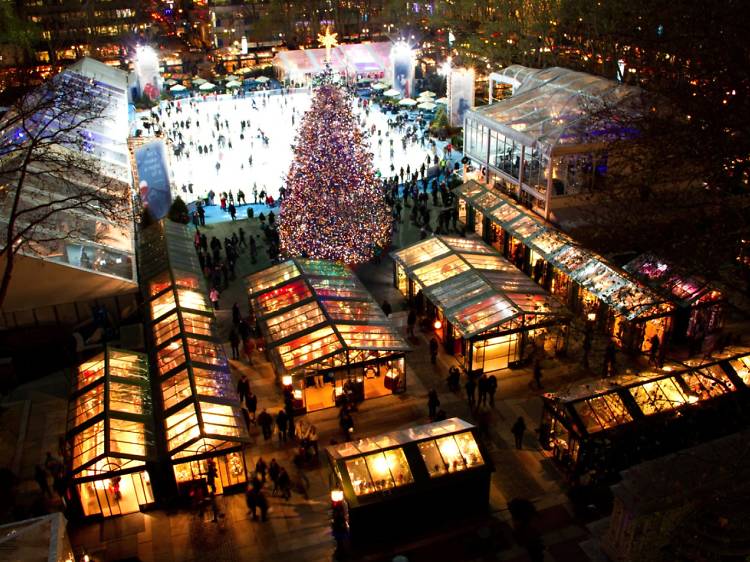 Source: timeout.com[/caption] There are a number of Christmas Villages in NYC, but this one probably the best of them. Located near Grand Central Station, and adjacent to the New York Public Library, Bryant Park becomes a Christmas Village complete with ice rink, shopping, and tasty treats. The shops feature artisan creations, jewelry, candles, décor, apparel, yummy treats, unique gifts, and more. You're bound to find a great gift for even the hardest to shop for family member or friend. https://youtu.be/4L6wLsodC7g  
Christmas Lights in Dyker Heights
[caption id="" align="alignnone" width="2560"]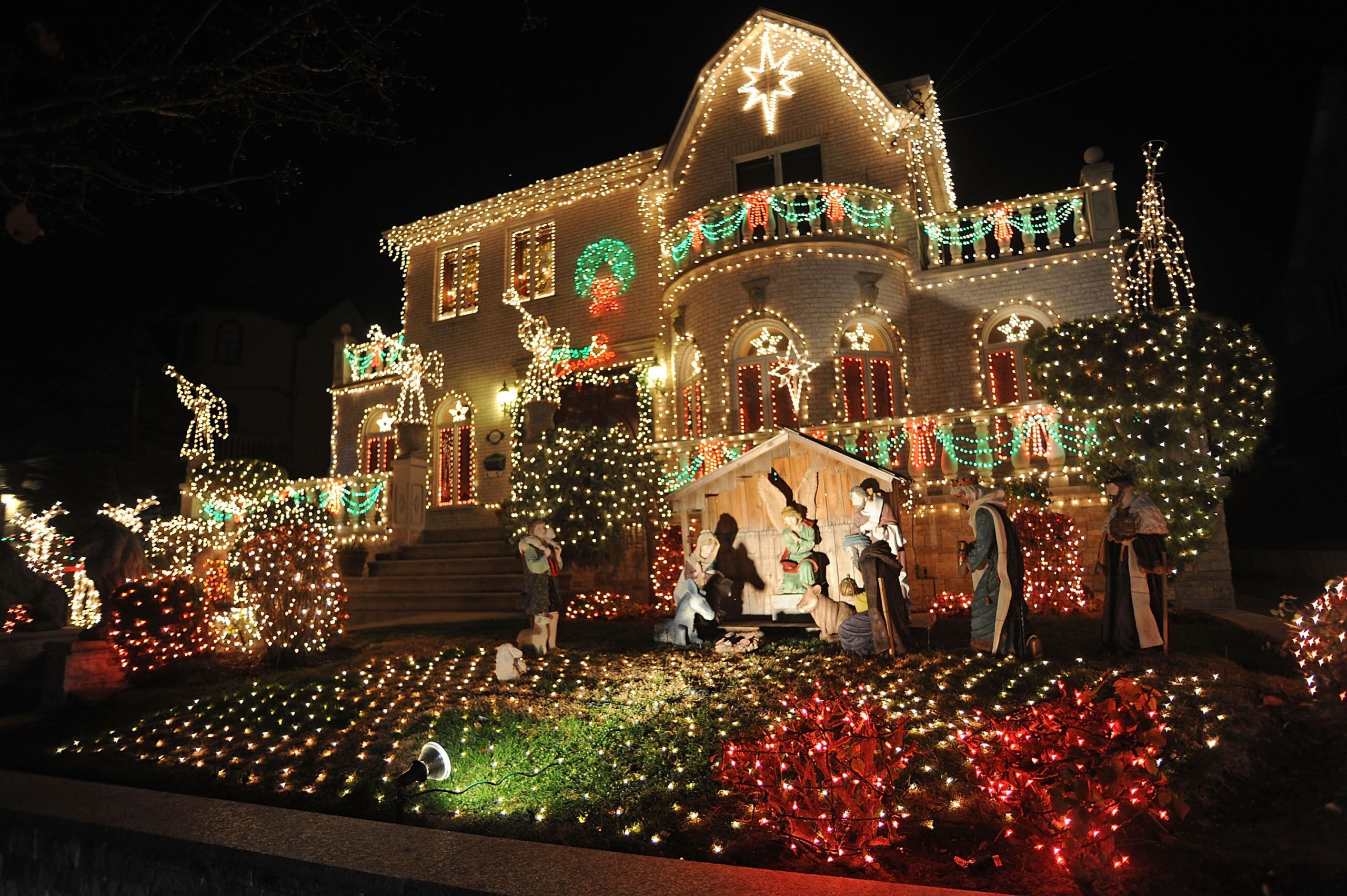 Source: hearstapps.com[/caption] If you want to see one of the best "unspoken" neighborhood Christmas light competitions that is very New Yorke, you'll have to plan a trip over to Dyker Heights in Brooklyn while in NYC. It's a nice, and of course free, walking tour. Just be sure to dress warm and bring hot cocoa.
Saks Fifth Avenue
[caption id="" align="alignnone" width="3323"]
Source: www.wanderingweekenders.com[/caption] Fifth Avenue is a great to walk down to see the different designer name brand stores decoration. One of the best to see is Saks Fifth Avenue's department store that always does a beautiful LED light projection show onto the side of their building each holiday season. The light show is about two minutes long and runs about every six or seven minutes. Of course you can't miss the neighboring building on your walk. And since it's right in the neighborhood of The Rockefeller Center and St. Patrick's Cathedral, you would be quite remiss not to take the walk down Fifth Ave.